After the Second World War, car designers started to get really creative. Many became obsessed with trying to make their creations look like wingless fighter jets, adding fake jet-engine like air intakes and numerous fins and wings. The 1956 Pontiac Club de Mer concept was no different. Except for the fact it didn't look too over the top.
The Pontiac Club de Mer de mer (Sea Club in French) was designed at GM's then brand new Technical Center under the leadership of the company's superstar car designer Harley Earl. It was conceived as a racing-inspired sports car which would offer, comfort, performance and style. Paul Gillan, the head of the Pontiac Styling Studio and his team of designers then got to work coming up with hundreds of sketches and proposals. Based on feedback from the top brass, the designers made amendments and changes to the concept before moving on to develop a full-size clay model.
The Pontiac Club de Mer was unveiled at the 1956 General Motors Motorama where it was one of the stars of the show. It was a strict two-seater, and instead of a normal windscreen the driver and passenger had separate wind deflectors. The bodywork was streamlined, and although there were chrome "silver-streaks" integrated into the hood, they weren't overly fussy and they helped break up what would otherwise have been a large expanse of undecorated bodywork. At the rear was a large central fin which was inspired by the vertical stabilizer of aircraft. Amazingly the concept measured just 39 inches (99 cm) high.
On the inside the vehicle was fairly minimalist. Trimmed in bright red upholstery, there were two individual seats, a bright red three-spoke steering wheel, a basic instrument panel and not much else.
The Pontiac Club de Mer was powered by a 4.7 litre V8 "Strato Streak" (there's that aviation influence again) engine which produced an impressive 300 horsepower and 330 lb-ft of torque. The transmission was a 4-speed automatic driving the rear wheels.
Pontiac only built one example of the Club de Mer, and it was sadly ordered to be destroyed by the company in 1958 once its motorshow days were finished. An original 1/4 scale model of the concept still exists and is held in private hands. In 2009 a replica of the concept was built by custom car fabricator Marty Martino. It was based on a 1959 Pontiac and was as true to the original vehicle as possible, featuring the same engine and interior components. The replica sold at the 2009 Barrett Jackson auction in Scottsdale for $110,000.
Photos:
Click images to enlarge. Click arrows to see more.
Video: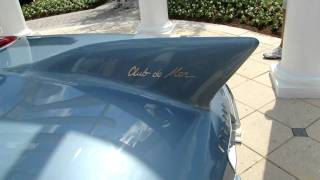 Resources:
Tags: 1956 Pontiac Club de Mer