When Raybestos Brake & Chassis decided to have a one-of-a-kind version of the iconic 64 GTO built as a give-away car, they turned to the talented crew at HRC&C (Hot Rod Chassis & Cycle ).
HRC&C is known for crafting over-the-top street rod chassis and therefore built a stout, unibody-style frame that mounts a proprietary 9-inch rearend hung with a four-link in back and a JW Rod Garage custom front suspension with RideTech coilovers. Nitto tires on 17-inch American Racing wheels are used on the street, but a set of M&H Racemasters will eventually get chucked on the back for the dragstrip. The brakes, of course, are from Raybestos.
CrateEngineDepot.com ponied up the engine—a GM Performance Parts LSX 454 crate motor—and HRCC built its own intake to mount an old-school Hilborn stack injection system, stealthily converted to EFI with a FAST system. It makes a bit more than 680 hp and funnels through a T56 stick, as it should.
Yeah, it's way more than a simple bolt-on GTO with racy graphics. To find out what it could do, the car was taken to Blackhawk Farms in South Beloit, Illinois, to ring it out on an open track day. There was no timing equipment set up, so no lap times were recorded, but it looked insanely fast. To demonstrate the car's versatility, the guys hauled it to Union Grove Raceway in Wisconsin, stuck Top Fuel racer Clay Millican behind the wheel, and ripped off a screaming but sandbagged 11.65 at 128 mph (to keep it within the e.t. limit of the class they entered). That mph number shows easy 10-second potential. This was also on the Nitto street tires, not the M&Hs, as they didn't have the sticky tires yet.
Nina Murray of Flesherton, Ontario, Canada, was publicly announced as the winner of the Raybestos 1964 GTO-R from the brand's summer 2011 North American promotion.  Murray's name was drawn as winner from more than the nearly 60,000 unique entries received. The announcement was made in at the 2011 SEMA Show by Raybestos brand representatives, builders Kevin Tully and Chad Hill from Hot Rod Chassis & Cycle.
November 2011 in the Original Parts Group booth at the SEMA Show by Raybestos brand representatives, builders Kevin Tully and Chad Hill from Hot Rod Chassis & Cycle, and dozens of other build partners involved in the project. With the announcement made, Murray must had to patiently wait until June 2012 to receive the keys to her new car.
In May of 2013, the car showed up for sale on Hemmings for $78,000 OBO (it was appraised at $80,000). It would cost at least double that, and quite frankly probably triple that, to have someone build this car again.
I don't know why people sign up to win something that they don't intend to keep. There were many enthusiasts that entered this drawing that would have kept and appreciated the car for many years.
Video: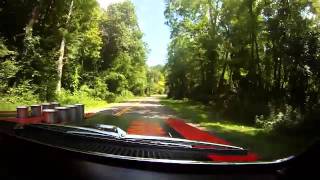 More Photos:
(click the photos to enlarge, and the arrows for more photos)
Tags: 1964 Raybestos GTO