Whatever happened to Butch Leichtfuss' 1963 Pontiac Lemans?
This beast sports a twin turbo 522cid big block Chevy that screams out 1250hp on pump gas (with 6psi of boost) and a ridiculous 2000hp on race gas! Ever go 0 to 150mph in 5 seconds – this car can. Butch and his 3700lb Pontiac cruise the local streets (with parachute, of course) and run the quarter in 7 seconds. The Pontiac was transformed into this behemoth at Nelson Supercars.
The car was listed for sale back in 2008/2009:
FOR SALE – 1963 Pontiac LeMans Street/Strip Warrior

522 Cubic inch twin turbo, injected, intercooled, big block Chevy motor – makes 1250 HP on pump gas and 2000 HP on race gas! Chassis is a full tube frame certified for 7.50 ET, A1 Turbo 400 transmission, performance differential, 9 Inch rear end. Fuel system – Product Engineering Dual Stage pump hard lined with bulk heads all the way to the engine, Cooling system – Ron Davis radiator and air to air intercooler. Comes with spare rims and tires – 1 set for streetr and one for track. The car was just completely repainted.

This is the fastest thing with current registration your going to find! Owners wife says it's too fast and he's got to get rid of it – First $79.500.00 takes it. Over $50K in the Nelson Racing Engine alone.

Serious inquiries only!!!

Contact Tom Nelson (818) 998-5593 or email NRE
And we found a forum post in 2013 where the current owner states:
Here is mine (some glory shots) with 17.5 MT Street meat out back. Those tires used to let go at 70, when shifting or basically anytime…..lol. Motor is a TT NRE 522…..used to take this to the dary queen with my kids (really) – could ride all day and never go over 190 degrees….
It looks like the last known owner listed his location as Chicagoland.
So whatever happened to this beast?
Make sure you check out the video and photos below.
Video: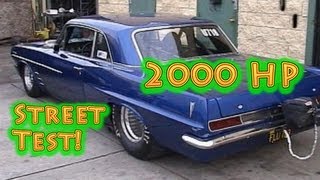 Photos:
Click photos to enlarge – click the arrows to see more
Resources: