Pontiac introduced the 2006 Pontiac Solstice as a $20,000 sports car capable of competing with the Mazda Miata, and an affordable option over the BMW Z3/Z4. Getting an affordable sport car to market meant using as many pre-existing parts available in the GM parts bin. That meant an IRS shared with the Sigma cars; backup lights from a GMC Envoy; fog lights from a Pontiac Grand Prix; instruments from the Vibe; transmissions from the Chevy Colorado; and four-pot mills shared with the Chevy Cobalt, Saturn Ion, and others.
The new Pontiac weighed 2,878 pounds and came with a 177 horsepower 2.4L engine. Pontiac offered an even sportier GXP option for 2007 that came with a 260 horsepower 2.0L turbocharged engine. While the Solstice GXP may be fun to drive with it's 260 horsepower engine, there are always those that are wanting more. Think…….Shelby Cobra!
The Solstice was freed from it's 4-cylinder engine, and transformed in to more of a super-sports car with a 6.2L LS3 engine from a Chevy Corvette. The stock LS3 packed 520 horses, but was pushed to 550 horses thanks to custom cams, exhaust and a tube. It hit the 700 horsepower mark with the help of a 15-pound bottle of nitrous.
The transmission is now a Tremec 6-speed manual instead of a stock 5-speed. Moreover, the owner has added adjustable BC Racing coilovers, Eibach sway bars, 6-piston 13-inch brakes up front, 4-pistons at the rear, Forgestar F14 18 x 12 wheels, and 285 section tires. Not only that. When this Pontiac Solstice hits the track, it boasts 315 Hoosier A7's which stick way beyond its fenders. And it's hitting the tracks indeed.
The Solstice has won more than a few races against the likes of Corvette Z06. Its owner actually thought about getting the new Z06, but instead splashed around $50,000 in total on this immaculate Solstice. Some might say he's made a wrong choice (putting it mildly), but his Solstice is fast as lightning.
You can find used Solstice's for under $10,000. If you're a gearhead, you can surely build your own version of this car for much less.
This Solstice is something that even Carroll Shelby would have been impressed by. But don't take our word for it, check out this video:
Video: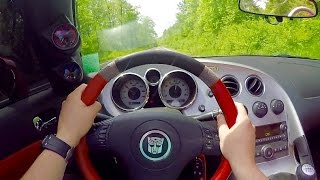 Photos:
Click the photos to enlarge – click the arrows to load more.