You've probably seen these 'new Pontiac Trans Am's' online before, and thought that it was someone's fantasy, or a one of a kind custom that nobody could really buy. Well, Sean Evans from thedrive.com not only took a closer look at what goes in to making these cars, but took one to the street for a real evaluation.
Trans Am Worldwide (Tallahassee, Florida) starts out with a new Chevy Camaro SS,  and replaces the stock 6.2L with a custom 840 HP supercharged 7.4L LSX. The suspension and brakes are also upgraded to meet the performance.
The car gets new front and rear fascias to give it the Trans Am body style, and the car is customized with t-tops. Why the Camaro? Because the Trans Am and Camaro have always shared the same platform. It seemed only natural, that a 'new' Trans Am would be built on a new Camaro platform.
The cars start at $75,000, well above the new Camaro. But you have to remember that there are a lot of hands on hours building these cars. Over 300 parts are used to transform these cars, and you're getting something with far superior performance. Also consider that the new Corvette will likely run you $65,000 – $80,000 (depending on the model / options), but maxes out at 650 horsepower. This is a car that is not only unique, but could probably eat a 'vette.
Visit: Trans Am Worldwide
Video: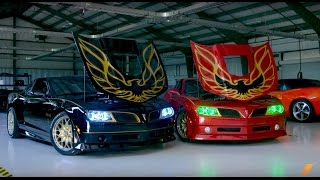 Photos: