If you've even heard of 'Street Outlaws' on the the Discovery Channel (first aired in June 10, 2013) , then you likely know who Justin (Big Chief) Shearer is. He's the guy that organizes the races, manages 'the list' and drives a wicked fast Pontiac GTO called 'The Crow'. If you're a fan of the show, then you know that The Crow was destroyed in a high speed collision.
We want to pay tribute to Big Chief and The Crow.
Justin Shearer AKA 'Big Chief' moved from Louisville Kentucky to Oklahoma when he was still a kid. He use to sneak out at night on his bicycle and go watch the local street racers. He vowed that someday he would have the fastest car out there.
When he turned 16, he bought a 1972 Pontiac Lemans – the car we all know and love today.  Yes that's right, that 1970 Pontiac GTO, is actually a 1972 Pontiac LeMans. Big Chief says that as he worked on the car over the years, they didn't have parts for a '72 LeMans, and it ended up with '70 GTO stuff on it.
The Crow started out as this maroon 1972 Pontiac Lemans
As he worked on the car, it went from maroon to black:
Eventually, Big Chief painted The Crow white. People questioned his choice to paint the car white—crows are black birds, after all. Justin said the name has nothing to do with the exterior color. "I wanted to make them eat crow!" he explained—"them" being the people he raced. "I called it 'The Crow' even when it was maroon. It's white now, because I always wanted it to be white."
 The heart of The Crow is a 482 twin-turbocharged Pontiac engine. The engine is largely comprised of off-the-shelf-parts, too, which makes it that much more appealing. Butler Performance did all the machine work, and Big Chief assembled the engine. He used a Crower crankshaft, GRP aluminum rods, Ross pistons, and Edelbrock Performer RPM cylinder heads. The compression ratio is 12.3:1. The valvetrain consists of a Comp cam, Crower lifters, Smith Brothers pushrods, Pac springs, T&D shaft-mount rocker arms, and Ferrea valves. Quillen Motorsports helped with the alcohol conversion, spec'd the camshaft, and wired the car.
The engine is force fed by twin Precision's 8891 turbos. Jeff Lutz built the hot-side plumbing, and Quillen Motorsports plumbed the inlet side. Big Chief says "I usually see between 46 and 52 pounds of boost on a good run". The engine runs on an EFI system from Fueltech, and Big Chief tunes the car himself. VP Racing's M5 methanol is his fuel of choice, saying he switched to alcohol because it makes low-end power, which works for the type of racing he does.
Don Dial Race Cars built the 25.2-certified rollcage and helped set up the four-link rear suspension. The front suspension is stock-style, consisting of TRZ components, and Kinetic Engineering built the Penske coilover shocks on all four corners. A Pro Torque EV1 converter spins inside the bellhousing of a Rossler-built TH400. Big Chief shifts at an astronomical (for a Pontiac) 8,600 rpm. from there, power is sent through a PST carbon-fiber driveshaft to the Strange 9-inch rear axle. Aerospace brakes are found front and rear.
(Below – The Crow back when it was a LeMans on nitrous)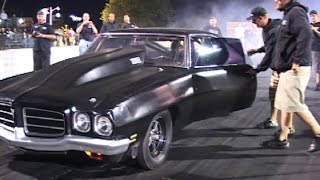 (Street outlaws : some history about big chief and the 405)
Death Of The Crow:
On November 14, 2015, "Big Chief" Justin Shearer and Brian "Chucky" Davis were involving in a terrifying crash on a track in Oklahoma. Street Outlaws was reportedly filming an episode late that evening, when Davis' Ford Mustang crossed over in to Big Chief's late, struck his Pontiac LeMans, and sent it rolling out of control.
Big Chief was transported to a hospital, where he was hospitalized until November 16th. Chief told his fans that he bruised both of his lungs and "Crushed my L2 and L3 in my back, broken collarbone, and pretty beat up, but so thankful to be alive right now. They got me on non stop oxygen and another round of cat scans, and X-rays coming up. The surgeon doesn't believe I will need a back operation anymore."
(Behind the Crash: Big Chief & The Crow | Street Outlaws)
Links:
Midwest Streetcars at MidwestStreetcars.com or give 'em a shout at (405) 261-0727.
Discovery Channel – Street Outlaws
Photos:
(Click the arrows for more photos)